I had some problems with wireless playback from my devices to Onkyo TX-NR515 receiver, that's why I devided to buy Bluetooth USB Adapter UBT-1 (A Versatile Wireless Audio Streaming Solution).
Last weekend my wife and I went to Helsinki (350 km from St.Petersburg). UBT-1 is not sold in Russia, but it was really easy to buy it in Finland. The device cost me 48,90€ at Verkkokauppa.com. There is a plus for non-EU buyers, you don't have to pay EU taxes. The tax-free price for UBT-1 is 39.76€ (on Amazon it's $30, but with shipment it's more expensive for me).
The box I bought contained the device itself as well as some papers (instruction manual, warranty/registration, safety, disposal). The instruction manual in the box was the same as at the Onkyo's website.
In any mode you can plug in the UBT-1. The device will automatically switch to USB mode. In this mode NR515 shows "Onkyo UBT-1 / Status: Ready" on its screen. After pressing the pairing button UBT-1 becomes visible to other devices. Pairing process is very easy, the default pin is 0000. After pairing NR515 says "Onkyo UBT-1 / <connected-device-name>"
HTC One X is an Android phone, running 4.0.4 Ice Cream Sandwich. After pairing it says "Connected", Onkyo displays my phone name, but actually does not play anything. I tried a lot: rebooted phone/receiver, paired/unpaired, tried different players, but still no luck. I found some info on forums that it is ICS thing, but I haven't researched this topic deeply. Some people say they also have this kind of problem: device pairs, but no sound. I'll update the post if find some new information.
Ubuntu Linux 12.04/12.10. Though the manual says that it's not working with computers, it is easy pairable with Ubuntu. After pairing the device becomes available as sound output. I did not install any additional packages, did not recompile my kernel. Just paired, selected in sound options and played music. Tested on my Samsung NC110-P05 (has Bluetooth inside) and Samsung R530 (without Bluetooth). For testing on R530 I inserted a Chinese $2 USB Bluetooth dongle and it worked.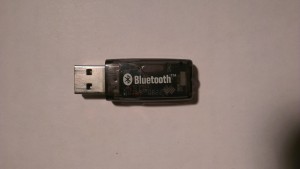 Windows 7 (Ultimate SP1): launched pairing on UBT-1, searched for devices in Windows, found UBT-1, pressed "Pair". After a minute the device was "successfully" paired, but actually there was a problem with drivers. I turned Windows update on, my laptop searched for drivers but didn't find. The audio sink did not appear in audio settings. I think I need some specific driver or software, other than just generic driver and standard Win7 Bluetooth tool.
Conclusion: works great with Ubuntu Linux, does not work with Android ICS, Windows 7.
P.S. I'll contact Onkyo and update the post if I have new info.
Upd: I'm on Google Nexus 4 now (Android 4.3) and it works great. Ubt-1 works also with iPad mini and iPhone 4.